Rectangle Baby Play Mat - Soft Ecru
Regular price

$160.00

Sale price

$128.00
Our baby play mats are a plush and buttery soft must-have. Generously padded, soft and safe for tummy time and play time. Or use as a launchpad for little explorers to take off — they're scratch-proof and easily wipeable.
Available in beautiful colours and generous shapes fit for the playpen, play gym, nursery, bedroom and even the living room.
Made from non-toxic, durable, high quality vegan leather, and GOLS and OEKO-TEX® certified organic all natural latex foam.
This Rectangle Play Mat is also available in SandCastle with Pyramid Quilting.
Details

100cm x 140cm

100% Solvent-free, Water-based, Child-safe Polyurethane Leather

Playmat Insert - 100% Natural Latex

- Mats are reversible for two different looks, and the neutral, classic colours fit right into your living room or nursery interior.Whether it's hardwood, tile, or rug, our mats pad your baby's bumps and falls.

- Generous 3cm GOLS (Global Organic Latex Standard) certified organic latex foam.
Safety Reminder

For use on floor only. Not intended for sleep.


Contains natural latex rubber. Check if baby has allergies to latex in any form.
Child Safety Zip Lock

All our Play Mats have a child safety zip ensures their tiny hands won't get caught in the zip closure, and that the foam insert stays inside. To unzip, simply stick a paperclip through the hole on the zip slider and pull.
About our vegan leather

Our Vegan Leather is safe, durable and low-maintenance.

Our Vegan leather is made of water-based, solvent-free PU leather, a synthetic leather made of waterborne polyurethane and does not contain toxic organic solvents. It is the latest replacement product of traditional solvent-based synthetic leather and a product that conforms to the sustainable development of the world.

It was awarded the SGS reach 211 SVHC certification - safe for infants and children, free from 211 harmful substances, contains no PVC.

Our Vegan Leather are thicker and hardier than the standard PU leather or TPU mats in the market - It does not flake easily, has high peeling resistance, high folding resistance, and high abrasion resistance.

Spills? No problem, it wipes clean easily. Vegan Leather can get wet but it is not meant to be hosed down or left to soak for a prolonged time due to the quilted stitching.

About our Natural Latex Insert

We use GOLS (Global Organic Latex Standard) certified organic latex foam, double the thickness of most playmats with additional thickness of quilting on one side.

Our foam is made from rubber tree sap harvested directly from trees, using the energy efficient Dunlop production process. The foam has a supportive and springy feel, with small air pockets that make it completely breathable.
Size Guide

 

Rectangle Playmat

Round Playmat
Wash & Care Guide

Surface clean only.

Do not scrub.

Do not machine wash, iron, bleach or dry clean.

Do not use harsh detergents, citrus, alcohol, bleach or abrasive cleaners (such as Jif) as they may damage the surface of the mat.

Ensure mat is dry before storing.

Avoid prolonged exposure to direct sunlight.

The quilted mats are water-resistant but not entirely water impermeable due to the quilted stitching - Clean any liquid spills promptly with a towel/ rag/ paper towel.

 

Vegan Leather Care

Our vegan leather is stain-resistant but not stain-proof so avoid permanent markers/pens, acrylic paints or anything with a heavy dye. Be careful with some mineral sunscreens as these may stain. Quickly clean any marks by wiping with a baby wipe, paper towel or a damp cloth with mild soap.

Vegan Leather does crease - the creases will relax over time with use, but will reappear if the mat is folded to store. Creases are a characteristic of vegan leather and not a defect.

Natural Latex Insert Care (For Playmats)

Spot clean natural latex foam with mild soap and water. Your insert should be constantly protected by its cover. If the natural foam is put under direct sunlight or exposed to air for several weeks, it will begin to dry out and become brittle. If your natural foam becomes wet, remove the cover and let the components dry separately indoors.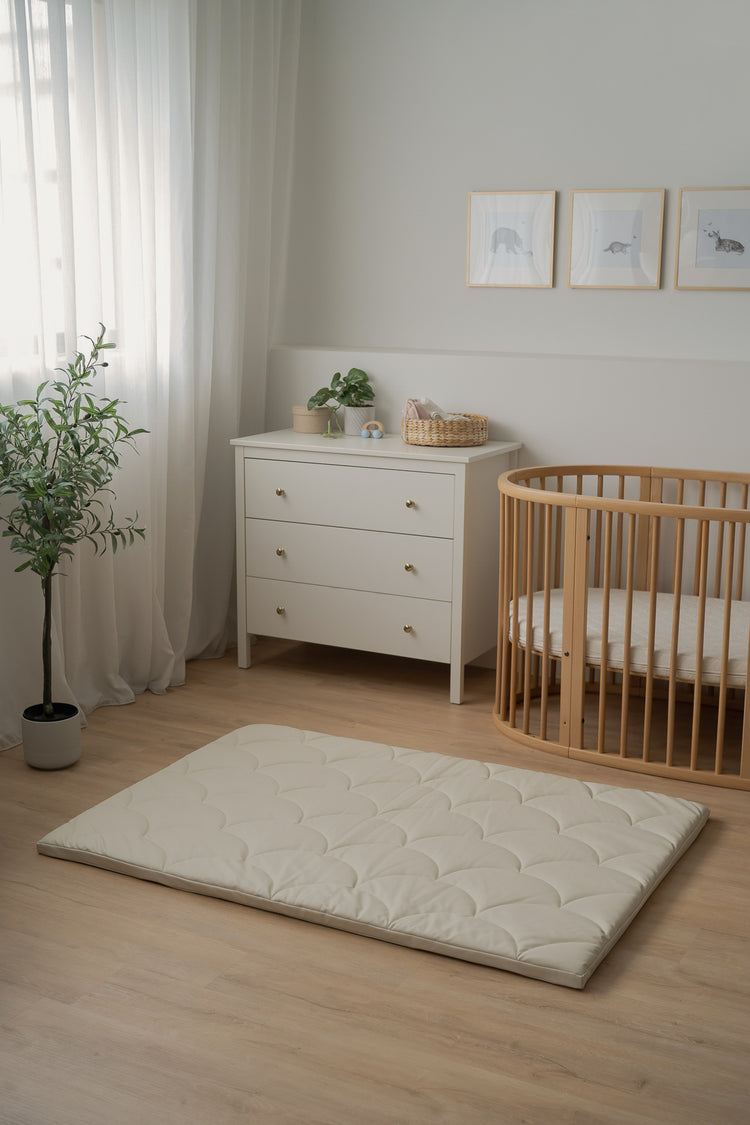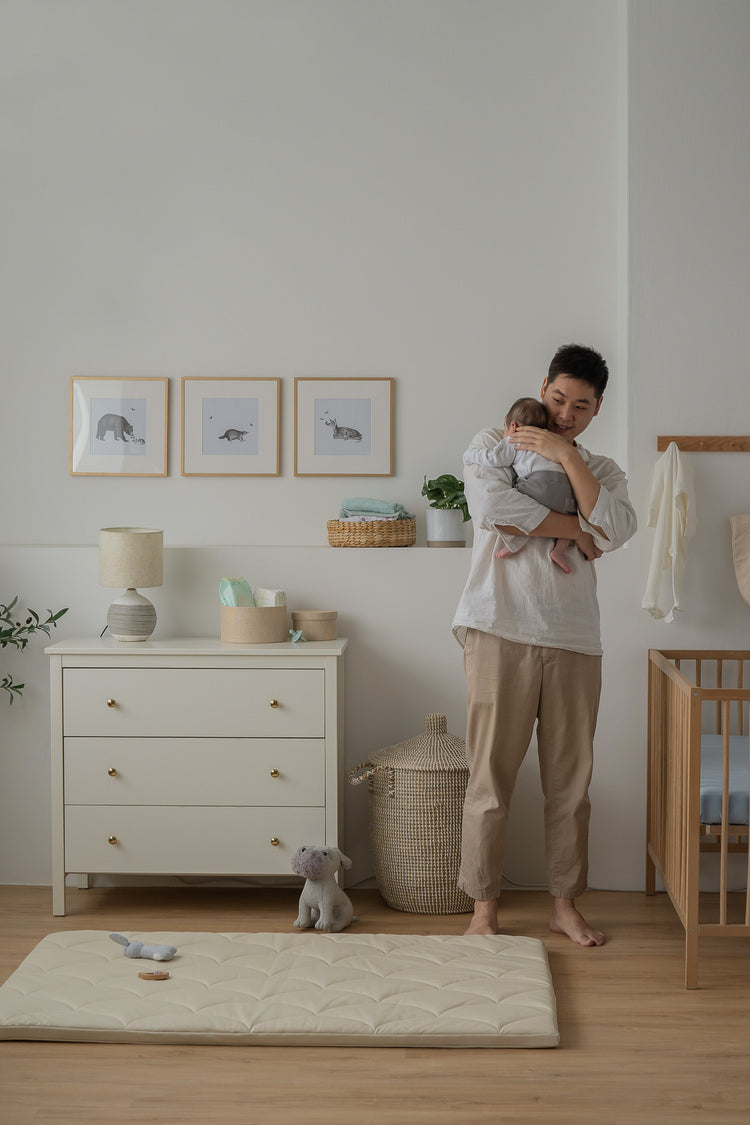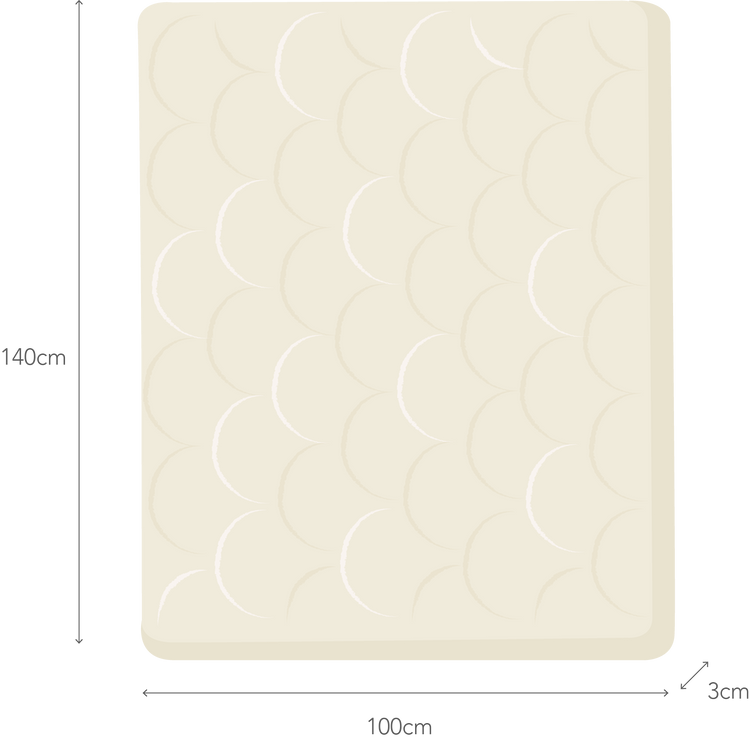 Launchpad For Little Explorers
High quality vegan leather
Won't flake or peel easily.
Luxuriously soft & safe
Generously padded, buttery soft and plush.
Whether it's hardwood, tile, or rug, our mats pad your baby's bumps and falls.
Wipeable & scratch-proof
Easy to clean, Water resistant.