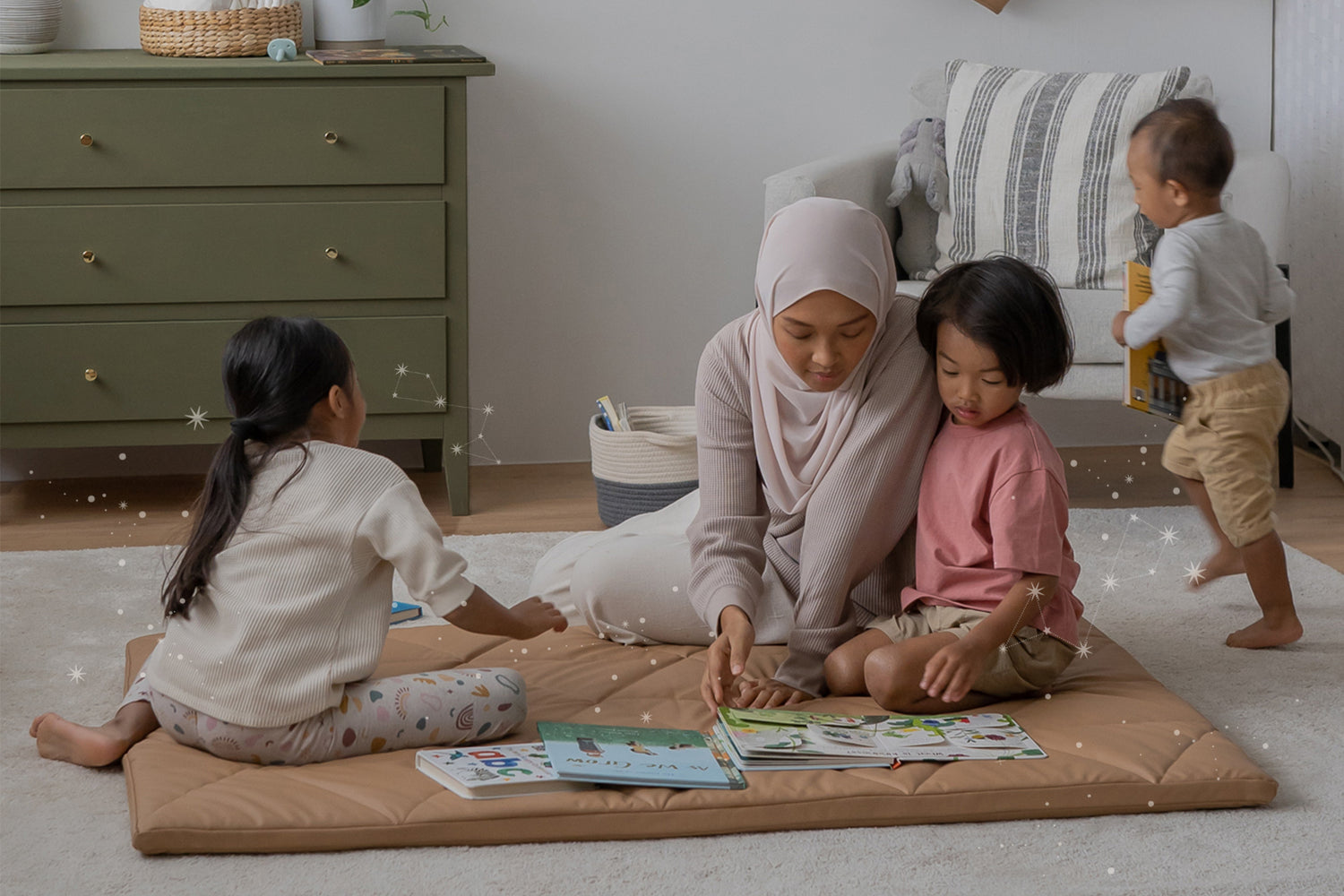 Baby Play Mats
Our baby play mats in Singapore are available in beautiful colours and generous shapes fit for the playpen, play gym, nursery, bedroom and even the living room. Soft and safe for tummy time and play time.
High Quality Baby Play Mats in Singapore
1/ Plush & buttery soft

2/ High quality leather

3/ Easily wipeable
Generously padded and luxuriously soft.
Whether it's hardwood, tile, or rug, our baby play mat pads your baby's bumps and falls.
Thicker and hardier than your usual vegan leather, our baby play mat won't flake or peel so easily, it's delightfully scratch-proof.
Button label
Use as a launchpad for little explorers to take off — our baby play mats are easy to clean and water resistant.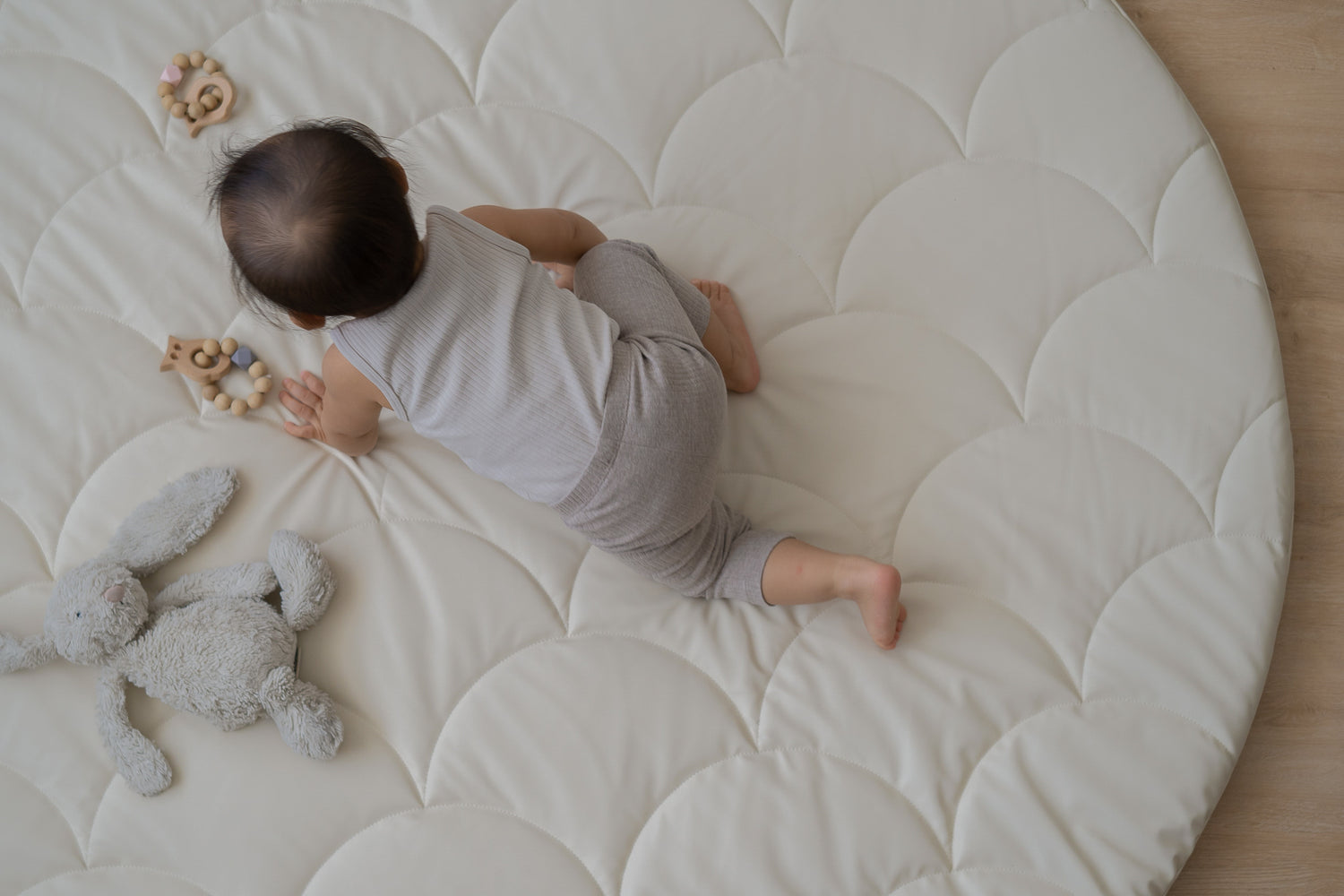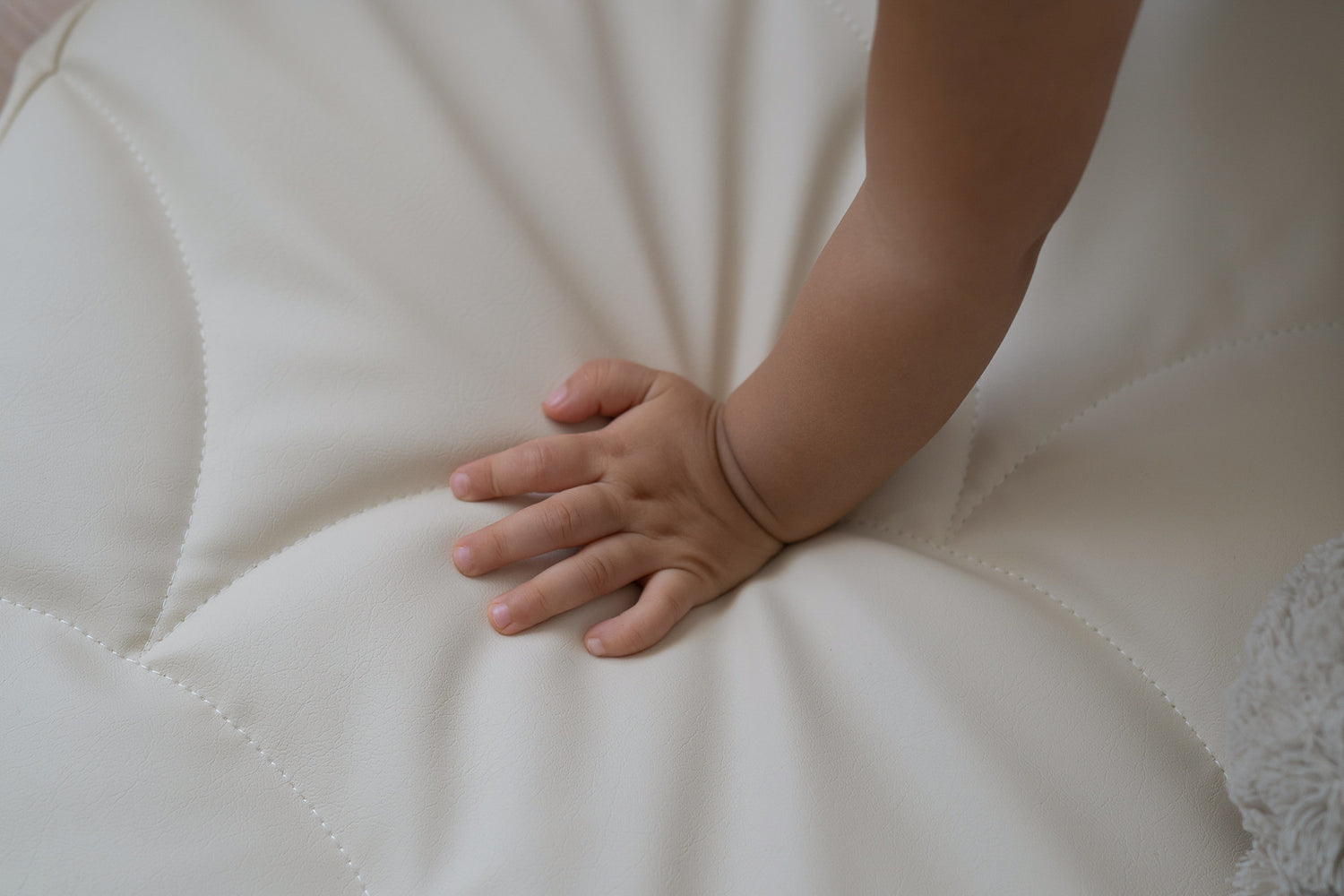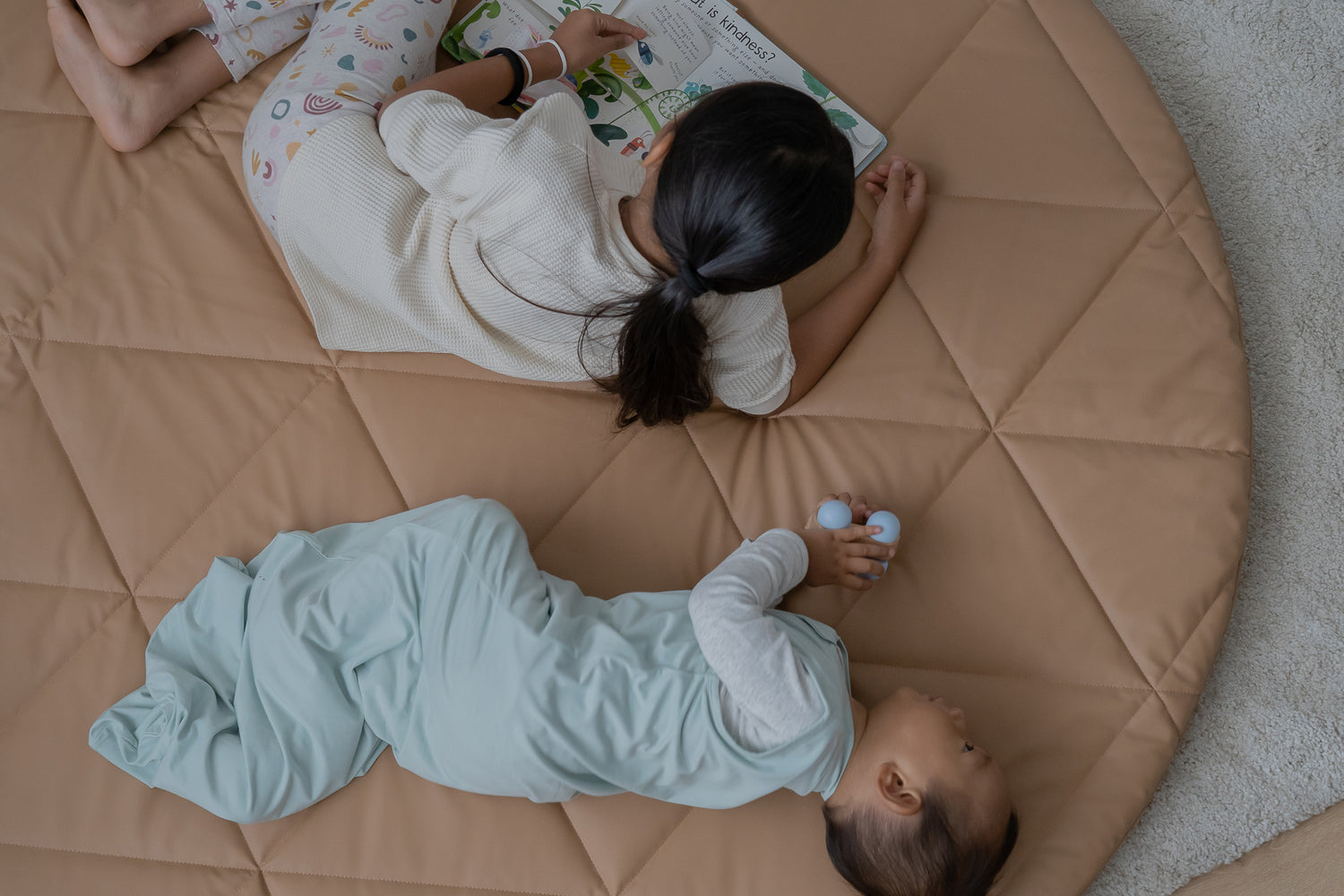 FAQs on Baby Play Mat
WHAT ARE BABY PLAY MATS GOOD FOR?

Our Vegan Leather Baby Play Mat provides you and baby with a soft but firm surface to practice milestones and play on the floor, from tummy time to learning how to sit and crawl.

Baby play mats give ample support for tummy time that strengthens the baby's neck and shoulder muscles. It provides a large and safe playground for babies to enhance their hand-eye coordination and motor skills. It'll even work as a big diaper changing station on the nursery floor.
WHAT ARE YOUR BABY PLAY MATS MADE OF?

Our baby play mats are made from high quality Solvent-Free Vegan Leather.
WHAT IS SOLVENT-FREE VEGAN LEATHER?

Our Vegan leather is made of water-based, solvent-free PU leather, a synthetic leather made of waterborne polyurethane and does not contain toxic organic solvents.  It is the latest replacement product of traditional solvent-based synthetic leather and a product that conforms to the sustainable development of the world.

Our vegan leather combines the feel of genuine leather and the convenience of faux.
IS SOLVENT-FREE VEGAN LEATHER BABY PLAY MAT BETTER?

Here's why we think our Vegan Leather is great:

It feels luxurious, buttery soft and plush

Our vegan leather is softer than regular PU leather without the indentation and rough grains of regular baby play mats, gentle on the skin, and soft enough for babies to rest their heads on.

It is non-toxic and harmless to Baby

The materials used and manufacturing processes produce zero VOCs and toxins. Our vegan leather is SGS reach 211 SVHC certified safe for infants and children, free from 211 harmful substances, and contains no PVC.

The production process of our vegan leather is harmless to the environment

The manufacturing process of water-based PU leather has low energy consumption in the production process and has no toxic and harmful waste-gas or waste-water discharge. Therefore, water-based PU leather can fully meet the highest international environmental protection requirements for synthetic leather.

Raw Materials are ethically and responsibly made

The raw materials used to produce our vegan leather are non-toxic and harmless to production personnel, as it contains no VOCs, zero DMF, zero formaldehyde, and zero toluene.

Our vegan leather is formulated to be hardy and durable

Water-based PU leather is thicker and hardier than the standard PU leather or TPU mats in the market - it does not flake, has high peeling resistance, high folding resistance, and high abrasion resistance.

Fully wipeable - Stain-resistant & Water-Resistant

Spills? No problem, it wipes clean easily. Vegan leather can get wet but it is not meant to be hosed down or left to soak for a prolonged time due to the quilted stitching.
DO YOU HAVE A WARRANTY FOR YOUR VEGAN LEATHER PRODUCTS?

Yes, all Ted & Luna's vegan leather products come with a ONE YEAR WARRANTY against Defects In Materials and Workmanship. 

If there's any manufacturing fault on the baby play mat, we require you to notify us and disclose this as soon as possible within 14 days of receiving the product, so we can rectify the issue.

We stand by the quality of our vegan leather products. Read more about our Warranty Policy here.